Driving revenue growth with digital engagement and CRM 
"When we started on our digital journey we were just looking for a new website. With Symphony3's input and guidance we have been able to create so much more. The CRM system that now works on the back end of our website gives us greater insight into our customer base. We are making better sales and marketing decisions and building stronger customer relationships. Symphony3's effort has helped us increase our revenues and to work smarter."
Tate McFarlane, Engineering Director, Bomac Engineering.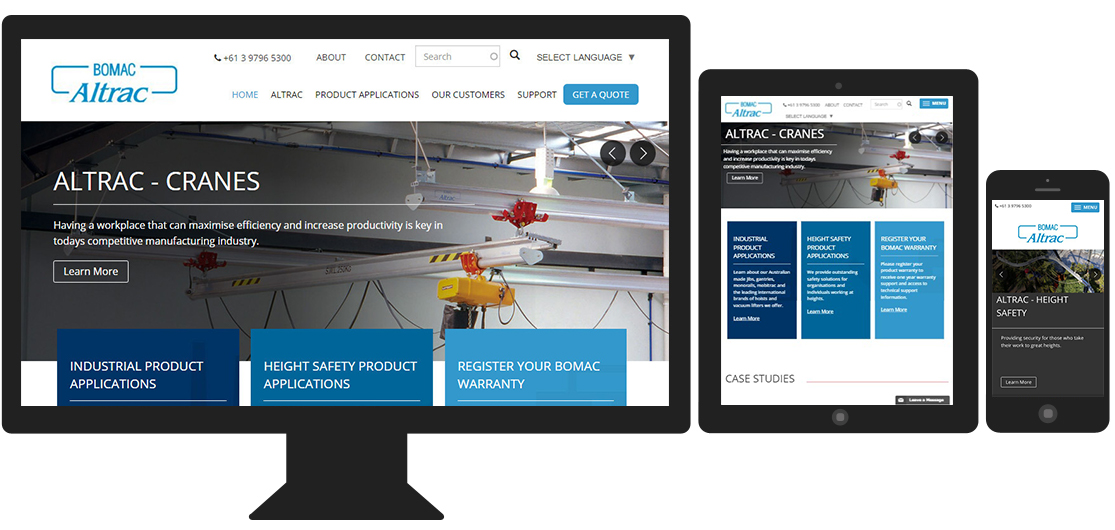 Founded in 1984 Bomac has been manufacturing and providing height safety and materials handling solutions across the Asia Pacific region for over 30 years. Their unique and innovative Altrac rail system can be found across a range of sectors ranging from the Sydney Zoo to Yarra Trams, Boeing, the ABC and Murray Goulburn. 
Website: https://www.bomac.com.au/
Problem
Bomac's fundamental problem was their inability to leverage digital technologies due to a lack of resources and internal skills. 
With a website that was over 10 years old and customer records, schedules and marketing that was mostly paper based, Bomac had limited visibility of customers and sales opportunities.  Consequentially, they were unable to effectively communicate with current, past and prospective customers.
CEO Tate McFarlane recognised that as an organisation effectively leveraging digital was of high importance and turned to Symphony3 as a trusted digital advisor. Symphony3 demonstrated how digital could be of best value to Bomac through its use in the effective management of the customer journey. 
Solution
Symphony3 engaged with Tate to provide digital guidance, support and technology for Bomac through the implementation of a digital roadmap. Bomac required a simple cost effective digital platform that would allow them to optimise the experience of their customers from the first point of contact to the post sale ongoing support.  
Symphony3 provided:
A documented, easy to read strategy outlining steps to be taken.
The ability to capture all sales lead opportunities digitally. 
The implementation and installation of a digital platform and customer relationship management system configured for Bomac's needs. This allowed for Bomac to control and manage all of their contacts, activities and relationships with ease from one centralised location integrated with their web platform.  
A simple, responsive and modern website that reflected Bomac's need for simply communicating their products, solutions and the value that they add. 
A sales and service platform that made it easy for potential and current customers to contact Bomac. 
Ongoing advice and training to minimise the difficulty of the organisation's transition to the digital world whilst allowing them to run the system themselves. 
Results
A new digital platform and the ongoing guidance and support of a trusted digital advisor have helped Bomac to:
Drive and increase sales.  
Streamline their management process. 
Website
A simple, well designed content management system.
The ability to update content themselves.
A more visible presence on Google.
Social media capability allowing them to generate more awareness of their brand.
Analytics in place so that they can better understand and optimise their digital marketing expenses.
CiviCRM
A powerful customer relationship management database (CiviCRM) is built into the digital platform.
The ability to capture all customer interactions on the website and within the business streamlining communication with clients.
A central repository of client information. 
An integrated and flexible reports system.
A sales pipeline allowing them to systemise and keep track of customers at every stage of their relationship with Bomac. 
The bottom line
All of these things, in turn, have helped Bomac to drive significant sales improvements and position them as a trusted quality Australian organisation against their international competition.
In the future, Bomac's platform will continue to evolve as they grow as an organisation and look to better utilise technology for repeat sales and the development of their support and maintenance side of the business.