Golden Plains Shire Council: Streamlining services with advanced digital services and system integration.
Golden Plains covers 2,705 square kilometres with a population of circa 20,000.  Whilst it is one of the smallest Local Government Areas in Victoria it is also amongst the fastest growing. 56 communities and 16 townships.
Challenge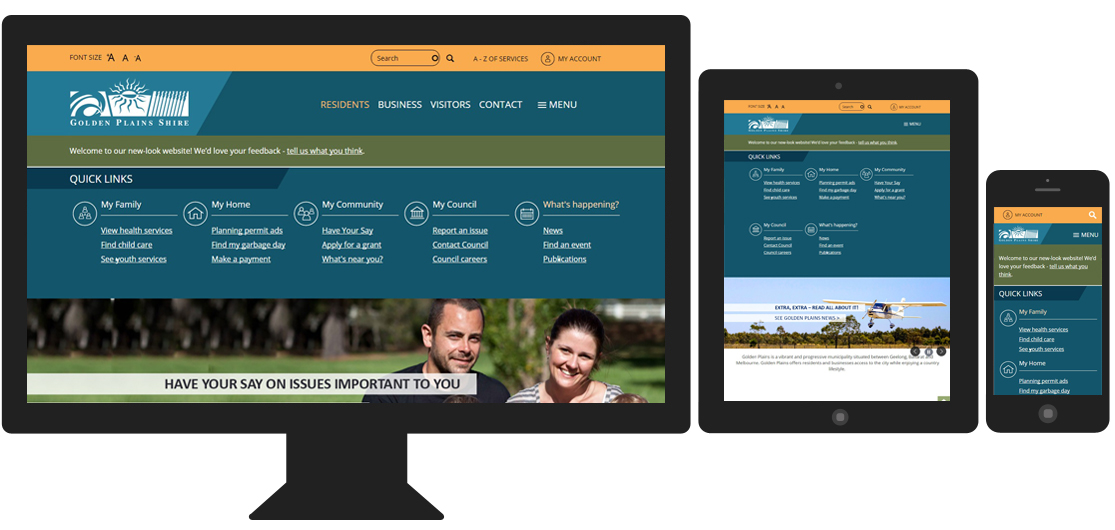 Like all local governments, Golden Plains Shire Council faces increasing expectations from its community. For a small council with limited budgets, servicing a growing community spread across 56 communities and 16 townships is a sizable challenge. Nestled between the larger, better resourced councils of Geelong and Ballarat, the challenge is to provide the community with better services than the communities of Geelong and Ballarat receive from their local authority. 
Senior executives such as General Manager, Corporate Services Mike Barrow and IT Manager Carolynne Roberts recognised the need to change. With a recognition of cost pressures and seeing the Federal government embracing the Drupal platform, both recognised the major benefits Open Source technology could bring to the organisation.
Solution
Major digital transformation requires changes in technology, processes and people. During the first phase of the engagement, Symphony3 directors and staff worked closely with Golden Plains management and staff via face to face interviews and workshops. Systems, processes and the culture of the organisation were analysed, discussed and documented. The current situation was contrasted with the desired situation and gaps identified.  A period of rapid prototyping was undertaken to help the organisation understand the technologies available to them and how they could benefit the council. From this work, a digital vision emerged.
A digital roadmap was then developed that clearly outlined how the organisation would move forward. This detailed the recommended technologies, information management and integration requirements. The knowledge transfer and change management practices that would ensure success were also outlined. This provided the template for the implementation
Technology –
In July 2016, a new integrated digital platform was built on Open Source Technologies, with Drupal as the backbone. The Drupal solution has been specially formulated for local government and provides a suite of connected digital services from the one platform including:
Content management
Online forms and payments
Customer requests
Online event and facility bookings
Online mapping
Online Grants management
Online consultations
Information Management: Symphony3 worked with Golden Plains Shire to develop the required information management frameworks in the organisation. This ensures future Integration and web services
Knowledge transfer and change management. Knowledge transfer is a central pillar of our solution. It ensures the organisation develops the internal skills and culture required to ensure real and lasting transformation. We deliver this via workshops, face to face and online training and mentoring.
Outcomes
The new website and underlying digital platform was launched in August 2016. It provides the community with access to simple, connected digital services from any device, 24/7.
The community can now:
Easily find and subscribe to information they wish to receive from Council
Access and use up to 15 council services using a single login
Store and retrieve previous transaction history
Council has:
Much improved information on residents and stakeholders, enabling them to provide improved services and support
Streamlined many services by moving them online Integrated systems ensuring reduction in manual processing hours. It also reduces human error.
By moving to open source solutions council saves hundreds of thousands of dollars on licencing fees.
Council is two thirds of the way through its roadmap - further service improvement will be followed with council aiming to make a further 50 services available as online forms in the coming 12 months.