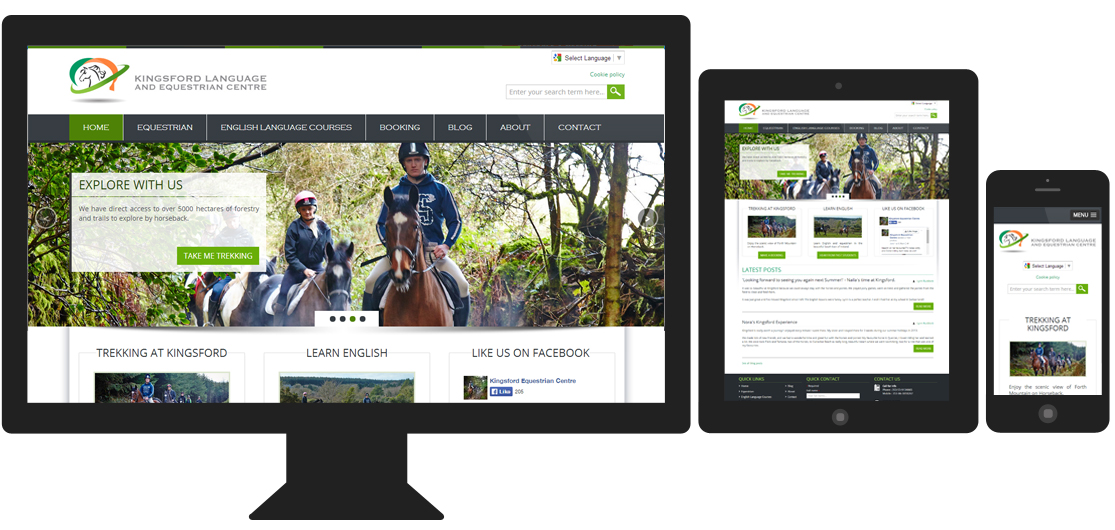 The Kingsford Language and Equestrian Centre have been established as an equestrian centre for the last eight years in the South East of Ireland. Kingsford is a family-run business combining equestrian services with an English Language program designed for students from abroad.
The Kingsford Centre is situated on a large property and contains indoor and outdoor equestrian facilities on-site. The area offers wonderful trekking facilities with direct access to over 5000 hectares of forestry and trails to explore on horseback. With so much to offer, their biggest challenge was getting seen by the world and getting people to come and enjoy what they have to offer.
Website - http://www.kingsfordequestrian.com
Services - Responsive web design, SEO, online bookings, integration with Google Translate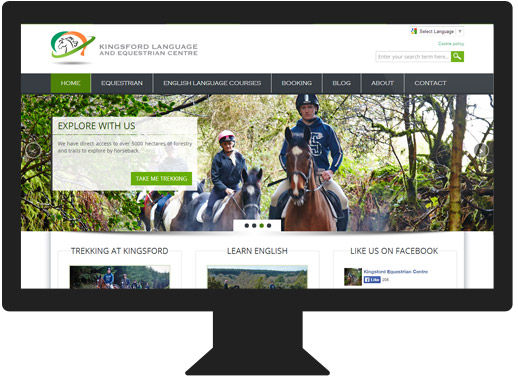 Problem
Kingsford had two outdated websites (one for their equestrian services and one for their English courses) that were static and didn't do justice to the beauty their land has to offer. 
They were in need of a single site with a unified brand that communicated their offering, was easily updated and managed and built awareness with overseas customers. Furthermore, Kingsford wanted the capability for customers to make enquiries and bookings online.
Ultimately, Kingsford needed more bookings in their Summer English programs and greater patronage to their business throughout the year, especially as disposable income is on the decline in the current economic climate.
Owner, Lynn Ruddock, is a full time teacher as well as a business owner, with great pressure on her time. She required a digital adviser who could guide her through her online needs and manage the project independently.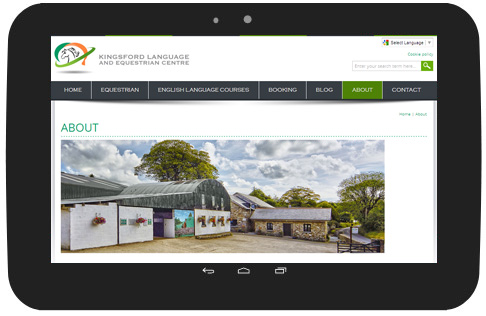 Solution
Web Design
We first organised for Kingsford to commission professional photographs of their fantastic property, and helped create new branding and logos for the business. This formed the basis of a new responsive website that communicated the two main offerings: English language courses and equestrian services. The imagery is the largest feature of the homepage, showing off the great landscapes and treks that Kingsford have to offer.
International Customer Base
The website is built with Google Translate integration, allowing potential customers from overseas to easily learn about their services and English language programs. This is integrated with Google Analytics so that Kingsford can track where their viewers and customers are coming from. Social media integration and the development of a Kingsford Equestrian blog allows Lynn to share the experiences of her students and increase engagement. Many past students use the Facebook page to post pictures and stay in touch with the centre.
Automated Bookings & Contact
Lynn being a time-poor individual, can now be notified when potential customers complete automated online booking and enquiry forms. This reduces the amount of admin and makes it easier for customers to get the information they need.
Online Support & Guidance
Given this project involved teams in Ireland, India and Melbourne, it was important that Lynn could receive support and have the project managed remotely when it suited her. Planning and strategy sessions took place at the beginning of the project over GoToMeeting, and further communication took place over email. Lynn was able to use the time differences to her advantage, sending email requests late that would be completed by the time she logged on the following day. This also meant that Lynn could get on with her daily responsibilities while the website development took place.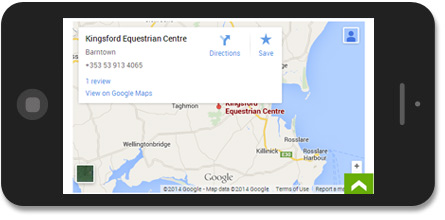 Results
Kingsford are already seeing the results of their new online presence. They have been receiving online enquiries about both equestrian and English language programs. Google Analytics shows inbound traffic from a range of overseas locations including the US, UK, Brazil, Germany, Spain and Switzerland. 
Kingsford have used their website as a central hub for information and promotion, linking the other print advertising back to the website.