Digital disruption continues to impact upon us all. In this blog we will look at some digital services that we have developed the problems that they solve for our clients
Digital disruption continues to impact upon us all, Our customers and stakeholders want convenience and today that means putting services that were previously delivered offline, online. Organisations need to constantly look at their service offering and identify services that can be made available digitally.
In this series of blogs we will look at some digital services that we have developed on the Drupal Open Source platform and the problems they solve for our clients. We will begin with online events. For an example of an online events calendar please visit: https://www.goldenplains.vic.gov.au/events. 

Events
Most organisations will normally run some kind of events either internally, externally or both. The list among our clients include training workshops, business seminars, luncheons, community events, webinars, concerts, farmers markets. Users in the digital age expect to be able to interact with events. They want to be able to search, evaluate and book events.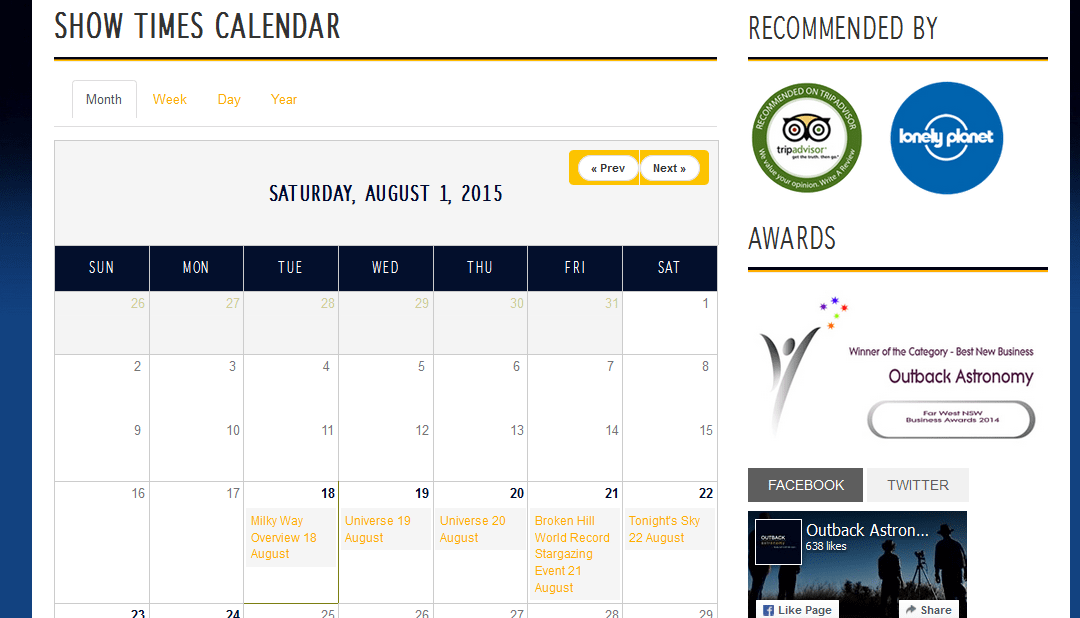 Issues with Existing Event Listings and Calendars
There are two primary ways to run events online.
Online Event Websites: There are many online event calendars that organisations can use to run events. Eventbrite is probably the best known of these online event websites
Events Pages on Existing Content Management System: Some organisations choose to run events on their own websites using their existing content management system (website platform) often with limited functionality.
Here are some of the issues we hear from clients running events using these solutions.
Issues with online event platforms.
The online booking system doesn't integrate with our internal system leading to data issues. 
The look and feel of our events are not customisable - our organisation's brand is being compromised and attendees can get confused as to who is running the event.
Issues running events on my existing website:
We can't syndicate events across different sections of our website.
We can't take bookings or payments.
We can't integrate the calendar data with our internal systems.
If we want to customise our events calendar, we can't do it ourselves and the vendor charges us a fortune.
We can't integrate maps easily with our events.
The Solution: An Open Source Events Platform
We have developed an open source events platform on the Drupal platform - it uses code that has been developed and used by thousands of organisations around the world. 
The Benefits of this Platform 
The platform offers many benefits to both organisations and users. Below is a list of some of the most requested features and the benefits.
Fully responsive and meets WCAG accessibility requirements meaning anyone can view the events on any device.
Fully customisable - you can change the look and feel to suit your brand.
No licence fees or vendor lock-in- the solution is open source so you don't pay licence fees and you are not locked into any vendor.You are in control.
Built on open standards - this means you can integrate with your internal systems and indeed with other external systems if necessary (more on APIs in future blogs).
Ability to use as a basic list of events, with more detailed event pages, or to use at a more advanced level where you can to open up online event bookings and payments. This staged approach allows organisations that are more resistant to change to move processes online over a series of stages.
Ability to allow external users to add events - get external event providers to do the data entry work for you.
Integration with maps - allow users to see the exact location of an event and to get directions to the event.
System emails and workflows - manage the event 100% online with internal approval workflows and system emails that send invoices, reminders and follow up surveys.
For more information or to request a demo of our events platform feel free to contact us. In our next blog, we will look at online community consultations.