The Connected Customer
Part 6 | The automatic execution strategy
The third connected strategy
In this sixth and final blog in our connected customers series, we take a look at the automatic execution strategy companies can adopt to build much deeper relationships with customers. This strategy is one of four connected strategies taken from the 2019 book "Connected Strategy" by Siggelkow and Terwisch.
What is the automatic execution strategy?
Where the coach behaviour strategy is described as being somewhat parental, the final strategy "Automatic Execution", takes us into Big Brother territory and can only be used sparingly. 
This strategy is outlined in the diagram below.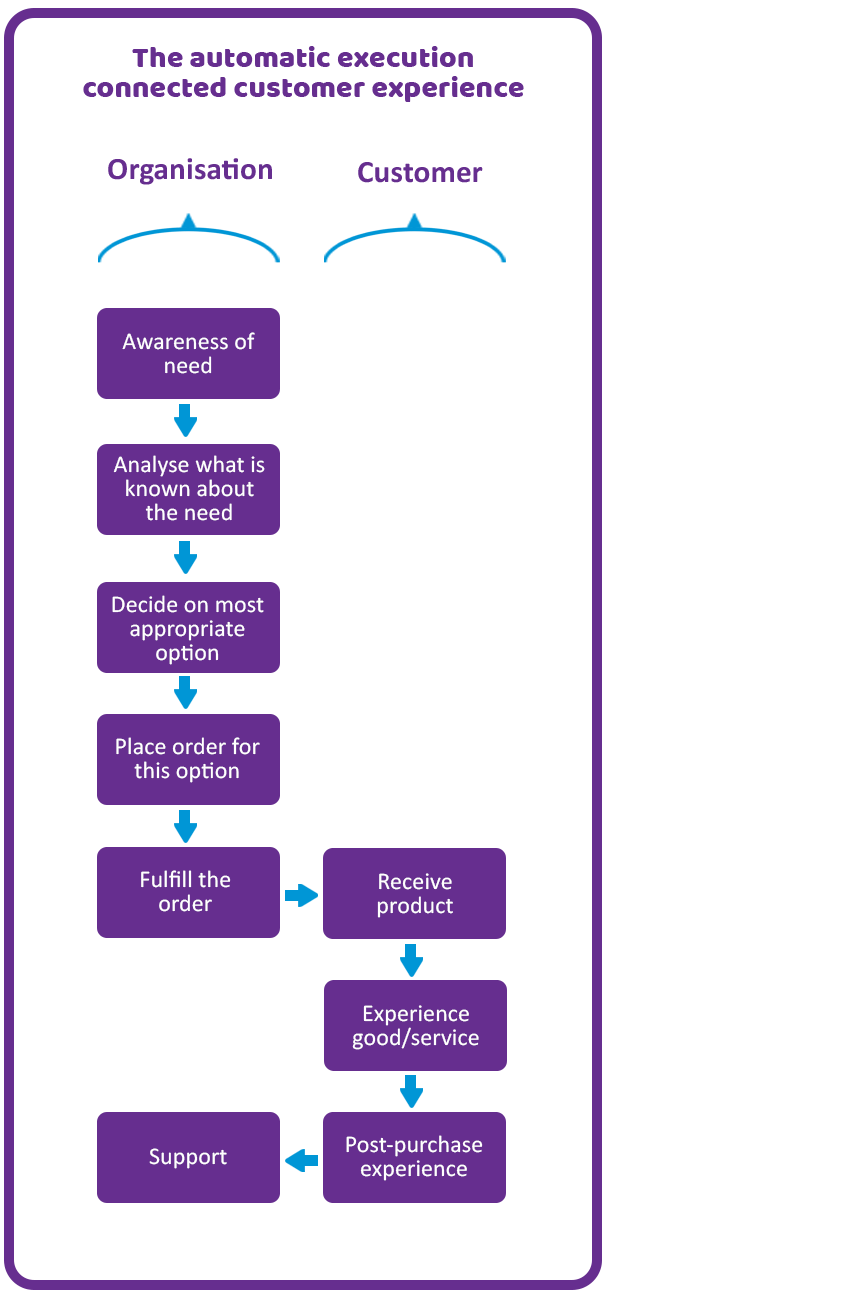 Diagram from "Connected Strategy"  by Siggelkow and Terwisch.
How does the automatic execution strategy work?
Meeting customer needs before they become aware of them
For the automatic execution strategy, the organisation controls the process almost completely. To explain the strategy let's return to the printer examples we used for earlier strategies. Previously, the customer was notified that she was low on ink and decided whether or not to order more. For the automatic execution strategy, the printer instead notifies the manufacturer that the printer is low on ink and automatically sends the ink to the customer. 
A growing internet of things that enables automatic execution
As the internet of things (IOT) grows, we will increasingly have sensors and devices monitoring our lives and the automatic execution strategy is likely to grow. We are seeing this strategy in the automotive industry through monitored cars, and in the appliance industry where our fridges can now reorder our groceries.
Let your customers drive your transformation, not the technology
Automatic execution is a very powerful strategy but should be used sparingly.
It also fits with adopting a long term strategy that focuses on customers. At Symphony3 we highly recommend customer-led transformation tied closely to business outcomes, with consideration given to both the short-term and long-term. This contrasts with much of the technology-first transformation in the marketplace at the moment, where customer needs and business outcomes are becoming an afterthought.
For more information on how we've helped clients carefully implement customer-led transformation get in touch. We can help you create connected customer experiences and drive customer-led transformation for your organisation.