The Connected Customer
Part 4 | Creating a quick, frictionless customer experience
The second connected strategy
In this fourth blog in the series, we take a look at the "curated offering strategy" companies can adopt to build much deeper relationships with customers. This strategy is one of four connected strategies taken from the 2019 book "Connected Strategy" by Siggelkow and Terwisch.
What is the curated offering strategy?
In the curated offering strategy, the company becomes involved in the experience at an earlier stage than the respond to desire strategy. 
This strategy is outlined in the diagram below.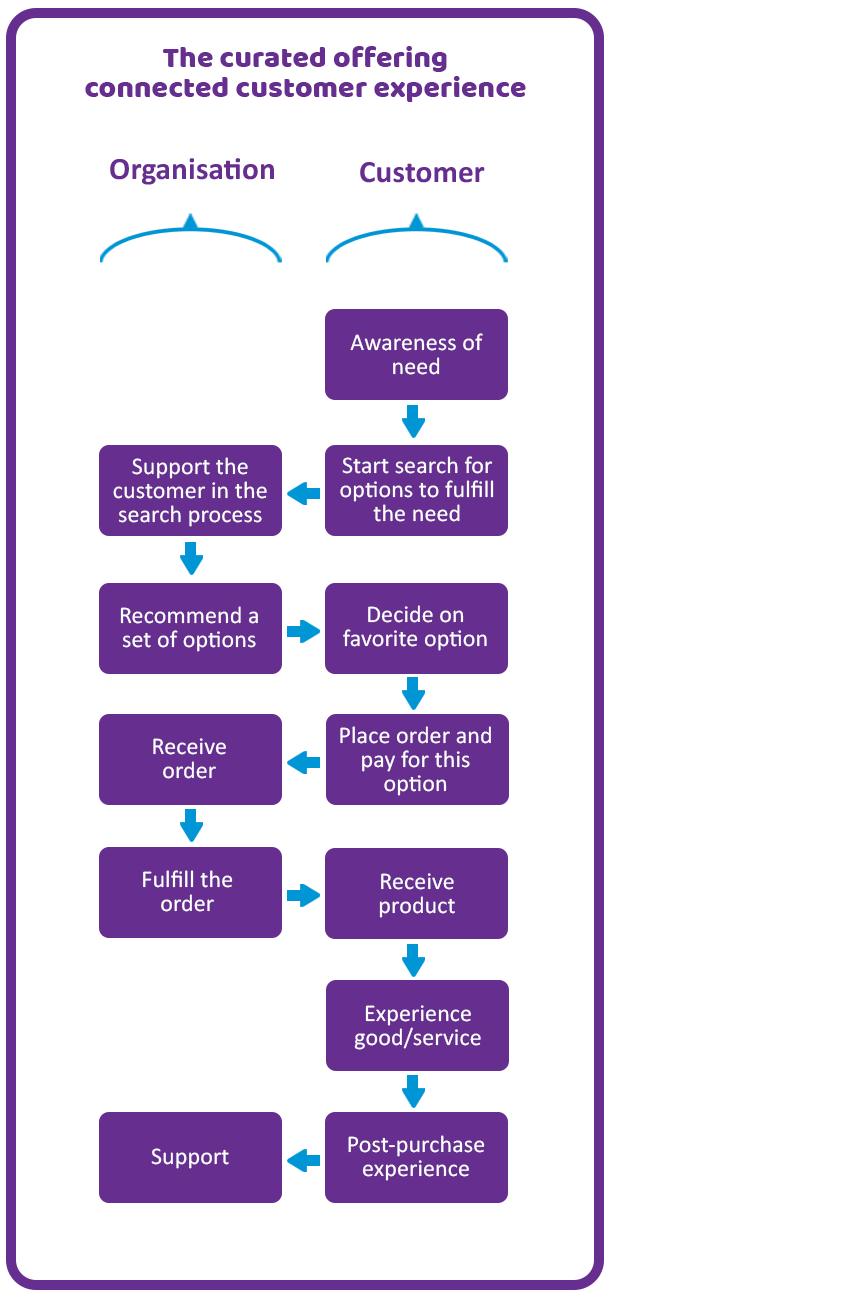 Diagram from "Connected Strategy"  by Siggelkow and Terwisch.
How does the curated offering strategy work?
A guided customer experience
The curated offering strategy is a guided interaction between the user and the organisation.
In this strategy, the customer experience is personalised. For example, if a customer wanted to purchase printer ink, they can log into their personal account and instead of needing to find the correct ink type, the system remembers previous purchases made by the customer and suggests relevant ink cartridges that they could purchase. This eliminates the need for the customer to remember the type and model of the product that they need. In addition, the system suggests other complementary products that could be purchased, such as paper. Amazon's "frequently bought together" feature is an example of this curated offering strategy. 
The curated offering is very valuable when customers are not exactly sure what they want, or if it would take significant effort to figure out what they want. For example, Netflix provides a curated offering by suggesting movies and TV shows based on what the user has previously watched. If a user wants to watch a comedy but doesn't know which one, Netflix can provide a list of suggestions tailored to that user's preferences. 
The curated offering strategy for mid-market organisations
Mid-market organisations can also deliver on this strategy. Examples include allowing customers to retrieve their previous order information on the website and simply press "re-order". Additionally, related products and service suggestions provide curated content for users that can make it easier for them to find what they want. 
At Symphony3 we have a number of clients who provide curated content through re-order functionality on their websites and related products and service pages. Another simple but useful tool we often help clients implement is a "quote" or "solution" builder. This embeds a selection process into an online form or wizard and by asking a series of simple questions directs the client towards the best solution for them.
Get in touch to learn more about how we can help you create a curated offering strategy.