Six digital building blocks and how you can use them. In this blog, we look at blocks one and two, strategy and innovation, and the customer decision journey.
McKinsey and Company have released some excellent articles over the last 12 months around the theme of "The Digital Enterprise". Their latest article, "Six Building Blocks for creating a high-performing digital enterprise", is one of the best yet.
While McKinsey's focus is on large corporate organisations - many of the lessons are directly transferable to small and medium-sized enterprises. In this blog post, we consider the advice in the article related to the first two building blocks, and what lessons our clients can draw from it. In the coming weeks, we will look into building blocks 3 - 6.
What are the digital building blocks?
People Needs
Why we Exist
Financial Sustainability
How we do it
Building Blocks
Clients will know we use our own digital framework which we call "Logical Boxes". Our "Logical Boxes" framework carves digital into five key areas. McKinsey's latest research carves digital in six areas. This provides us with a different lens through which we can consider digital. (Thankfully our building blocks do align with the McKinsey ones!)

The six digital building blocks McKinsey define are:
Strategy and innovation
The customer decision journey
Process automation
Organisation
Technology
Data and analytics
In this blog, we will look at 1. Strategy and innovation, and 2. The customer decision journey.
1. Strategy and innovation 
According to McKinsey, 90% of digital leaders have fully integrated digital into their strategic planning process. McKinsey advises not to look at past analysis but to carve a strategy based on what you believe your sector will look like in three to five years. Then focus on the most significant opportunities. 
McKinsey also talks about the blurring between strategy and execution.
Our Take: Every strategy needs to be digital
In our work, we see many businesses that still see digital as simply a website, app or social tool that is an add on to their business. They don't truly put digital at the centre of their business strategy and are not prepared to reinvent their businesses for the digital age. Of course, this is understandable as true digital strategy involves massive change not only in technology but also in people and culture, process. We still see the leaders of struggling businesses blaming the economy, or the industry, or their customers, or the government or their staff for their woes. Often the reality is that they are to blame for not re-evaluating their businesses and building strategies that align with the needs of customers in the digital age.
The 
Business Model Canvas
 is a useful tool to help businesses consider the shifts that are likely to happen to their business in three to five years and to help them restructure their business to thrive in the changing environment.
We agree with McKinsey - when you redo your business model and are developing your strategy, focus relentlessly on the two or three things that will deliver the most value. Park the rest. You simply won't have the time or resources to do everything.
With regard to strategy and execution, we firmly believe in rapid prototyping (and emergent strategy) and to us, a strategy is only of value if it is executable and executed. Hence our tagline - smart thinking, practical outcomes.
2. Customer decision journey
Mckinsey research "shows that organisations that are able to understand and skillfully act on complete customer journeys can reap enormous rewards. These businesses increase customer satisfaction by up to 20 percent and revenue growth by 10 to 15 percent, and lower the cost to serve by 15 to 20 percent." McKinsey see understanding the customer decision journeys as a cornerstone for successful business.
Our Take: Customer Personas and Customer Journeys are crucial to digital success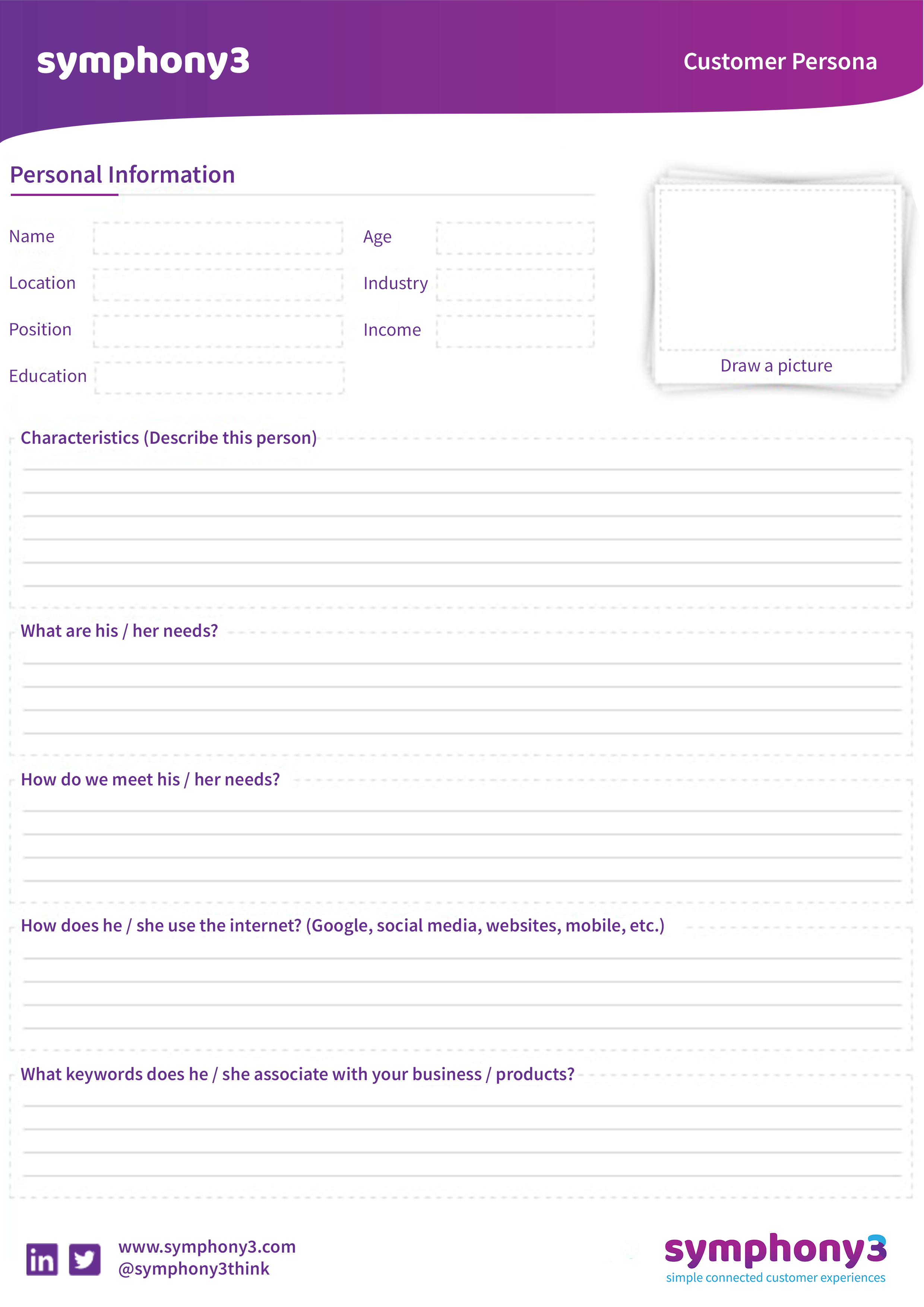 We love talking about customer personas and customer journeys and helping clients to develop them. 
For small and medium-sized businesses it can be difficult to find the time and free up the resources to understand customer segments and the customer journey. 
We advise to keep it simple.
Identify your top 2 or 3 customer segments. 
Develop simple personas for each segment
Develop customer journey's for each (there will be significant overlap) using our customer journey tool.
Identify the two or three actions from the journey tool that will deliver the most value and implement.
We also use Google's Customer Journey to Online Purchase Tool as a workshop tool to get our clients thinking about their customer journey.
In our next blog, we will look at building blocks three and four, process automation and organisation.
If you found this article useful please let us know on Twitter 
@symphony3think
.
Customer Journey Worksheet