The Symphony3 team has grown over the last 12 months and we have added some exceptional talent both locally and internationally. Senior technical consultant Tsega Tadesse is one of our new internaltional team members. He talks about digital transformation
Our senior technical consultant Tsegaselassie Tadesse talks about digital transformation in Ethiopia, basketball, and building for the future.
Tsega Tadesse has been working at Symphony3 for six months as one of the senior and international members of the team. We asked Tsega if he would be willing to sit down and have a chat about his experiences, the world of digital, and his insights for the future.
Image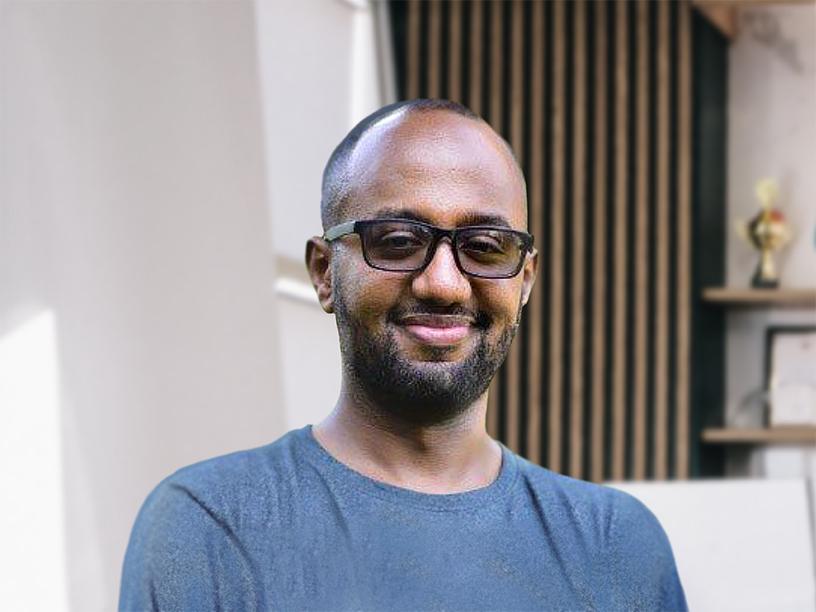 Hi Tsega, tell me a little bit about yourself?
I am from Ethiopia and have been in the software development business for almost 16 years now. I have always worked on and been interested in web applications. I have worked at travel agencies, software development firms, research institutes, outsourcing firms. About four years ago I started working remotely and have had considerable exposure and been involved in digital projects from all over the world.
My interests, I'm a huge basketball fan. I actually played professionally for a year after graduation. It's not a very big league in Ethiopia so I had to switch to doing software development again.
I'm also married and I have two kids, surprisingly, my son doesn't like basketball at all. He loves soccer and wants to be a professional.
Fergal (Symphony3 director and former professional Irish soccer player) would be happy to hear that I'm sure. What position did you play?
It's a five-person team, but I used to play point guard. Possibly the shortest person in the team, they are the one that distributes the ball and gets people into the game.
 
You have already talked a little about your experience working in the digital space. What has it been like working in different countries for different companies, and how has it compared to working for Symphony3 in Australia? 
Yeah, I mean, it is certainly different. In one of my earlier roles, I was actually the technical manager of a software company. We used to deal with Ethiopian government offices, and we used to build a lot of stuff for them. That was a different kind of experience where you really had to not only sell your product but provide the context for the need for digitisation. It was certainly not a smooth ride, you had to do a lot of legwork even after you had completed your assignments. You had to carry the people into using the system, into even paying you for all of the costs that you have incurred. So that was a different kind of experience. I moved onto an international research institute, that was a different setup where money was never an issue, the funding was already there, we just had to come up with the ideas to help scientists publish their research and make it reachable through the internet. After that, I worked for a remote company where I was dealing with a lot of different clients. I had some great memories there, but it was also very metric focused. You didn't have room to explore things and to provide solutions other than for the role you have been given. 
For me, coming to Symphony3, when I was interviewed by Phil and Fergal, my impression was that there were a lot of areas that I could contribute to. Working for almost 16 years I have a good amount of experience with helping teams, building them, and streamlining development processes. I felt that I could be of value here and Symphony3's approach resonated with what I think a company should be like. So yeah, that's my experience. Even after working for 6 months now, I still have that experience and feeling that we are doing things as a team, we have an aspirational goal that we are reaching - helping customer connect to products and services simply and efficiently.
 
What would you say your skillset or speciality is?
I started out in the era where you're supposed to do everything yourself. I would consider myself a full stack developer. I'm comfortable with databases, designing them, enhancing them, back-end code where you do a lot of stuff on the server, and front-end. In my previous role, I was a front-end developer, so I have a lot of experience in that area. I was also a trainer and project manager, but I would really define myself as a full stack developer.
 
Why are you excited to be working at Symphony3?
During my interview, Phillip and Fergal revealed their vision for what they were building. I come from a background of consultancy where I would switch between many projects here and there and I felt that it was time for me to work on a product setting that could allow me to contribute long term instead of just short term. I felt that what they showed me was something that I could contribute to and build towards a successful product. So that was really the reason that I joined Symphony3.
 
What tips would you give to organisations who want to digitise?
Whether you are in a developing or developed country it is inevitable. So, as an organisation, the thing that you can do at the moment is to build systems to capture as much data as possible. That way you can use that data to your advantage to make executive decisions, improve processes, and engage your customer base. It's something that they have to do, and they have to think holistically. It's not just one project here, another project there. It's about how these projects interrelate and how does this help us to perform our duties better? I think that's important.
 
More broadly, in what direction do you see the digital space heading over the next 4-5 years? What have you observed?
Again, data is important. Building on that, inferring on the data and projecting what things will be like in the coming few years or few months will be the trend. It is happening with AI modelling tools, machine learning and with data sciences. I think there is an interlink between collecting the data and making useful information. That's the kind of thing that I have seen trending in most of what I have been involved with.
 
In your time at Symphony3 do you have a favourite project that you have worked on? Why?
For me, it has been defining what our platform is going to be built from. I think about the infrastructure, working on how we can have a much more streamlined developer experience. From coding to deployment, to production testing. Visualizing that and thinking about the product in terms of the cloud-native frame, where an application can be deployed anywhere as long as it has a certain set of properties, it can be scaled easily, and it can be distributed with a lot of automation in between. You can also measure the application metrics and provide meaningful information for us to manage these applications, so I'm working in that area. It is something that is interesting to me now that I have the chance to work on it and to learn a few things. I'm excited, to get the latest version out the door so to speak, ready for clients to demo and try. I'm really excited to show the team and our customers what it looks like.